12 tags
Feast On Fashion At Ricarda
Ricarda's AW13 showing at their Subiaco store this week was a feast of fashion! Hundreds of VIP customers sipped on Moet, whilst models casually sauntered through the crowd. It was a class act! Owner, Ricarda Loecker, worked tirelessly behind the scenes, superbly styling the easy to wear, luxury outfits for him and her. International designer labels such as Isabel Marant, Comme des...
8 tags
Sara Fox & Co
It's new. It's hot. It's Sara Fox & Co!! Sara Fox & Co is a clothing and lifestyle boutique in North Beach. Sara opened her Flora Terrace store, a few months back. If you need a fashion fix and want that relaxed, 'Boho' effortlessly chic look, then this is your one stop destination. Styled above, in Nobody boyfriend jeans, Lilya lambswool jacket, Anna...
6 tags
Mother's Day Classic 2013
Get your pink on for Mother's Day! It's time to celebrate fabbo mums. As the sun shone, a sea of excited 'pink' mums, grans, aunties, daughters, toddlers, bubs in pink prams and even a few men, laughed and frolicked their way around the Esplanade in Perth, for the Mother's Day 2013 Classic. It's an exhilarating, 'high on life' thing to do…...
8 tags
How To Get The Latest Sports Luxe Look!
The 'Sports Luxe' trend is perfect for Winter. We all love warm, comfy trackies, so let's 'test drive' a few different pairs and dare to wear some AndAndrea kooky trackies as well! Dropped crotch trackies are definitely 'dare to wear and smile if they stare' worthy. Not for everyone, but WILL be seen on the streets this season. If you like, dress...
8 tags
Trendy Trackies!!
An Aussie bush picnic is one of those simple, special things. So let's go picnicking! On a recent 'Biker' convoy road trip, we found ourselves at Noble Falls. It's an hour out of Perth on Toodyay Road. Tip: Pull on your comfy, bush walking sneakers and get the latest 'Sports Luxe' look happening. Trackies are trendy!! They're a 'Must...
6 tags
From Bali... With Love
We've journeyed around Bali, shopping, sightseeing and eating! Now we've reached the final post in this Bali Blog series! This blog is a snapshot collection of random pictures. They capture some of the essence of beautiful Bali. Enjoy xx I walked in the footsteps of these early morning fishermen… I smiled at the comical beach cleaning army… I adored these twin...
7 tags
Homewares On The Strip... Bali Style
When it comes to homewares, Bali is ahead of the game! The Balinese are talented craftsmen and their wares are outstanding. If it's Homewares you're after, take an empty suitcase! There are tempting treasures to be found. I've known of chandeliers and enormous silver Champagne Buckets to be lugged on board as "hand luggage"!!  There's a fab little...
12 tags
From The Beach To The Boudoir... Bali Shopping
Bali truly is a paradise for shoppers! This AndAndrea shopping guide will cover everything from beach hawkers, to Designer Clearance 'Pop-Up' stores, to a secret Salon stocking exclusive Red Carpet gowns. So, lets go shopping… It's amazing what fabulous wares you'll find being sold by the hawkers on the beach! From beautiful Lombok pearls and silver jewellery, made...
20 tags
Bali... For Foodies
The food in Bali is sensational! Yum, Yum, Yum!! From my fave English High-Tea at Biku, with owner Asri (above), to… traditional Suckling Pig, at a little cafe near our hotel, in Dyana Pura. There truly is something for EVERYONE!! Use this post as a foodie guide and think of me when you visit these tried and tested AndAndrea faves. KUTA : KORI (Poppies Lane 11), UN'S...
6 tags
Easy Peasy Holiday Outfits...BaliStyle
Holiday outfits can be so tricky. If one key piece is missing, the whole outfit can be, sort of… blah!! The NUMBER ONE TIP is to PLAN your outfits! It's worth investing the time beforehand so you won't end up with a suitcase full of mismatched, unwanted bits and pieces! It'll make holiday dressing a breeze. Here are some tried and tested AndAndrea tips to make holiday...
6 tags
A Magical Bali Day
Let's share a typical day of Bali magic… from sunrise to sunset! Rise and shine. It's beach time! On the way to the beach, take time to stop and appreciate the beauty of Bali. A tradition! A new day begins with an early, 8km beach walk, EVERY, single, day! Time to relish the new day. Tip: If you take old walking shoes, you can leave them for the beach ladies on the...
8 tags
Bali 2013... A Fanfare of Colour!
Bali is bursting with colour. There's colour everywhere! It truly is spectacular and creates an instant happy vibe. Colour pop beanbags and umbrellas are everywhere on the beach in Seminyak. Festival style beach cafes are oozing with colour.  Beads and tassels on offer. Every colour of the rainbow. You buy? You buy? Beach ladies hawking fluoro sarongs and brightly coloured...
4 tags
Life's A Party at Vinnies Retro
C'mon in. You're gonna love Vinnies Retro.  There really is something for everyone at this Vinnies… even a 'Kath and Kim' 70's style jacket (above). Loads of stock on sale too. Wow! Andy Warhol inspired Vinnies entrance, at 267b William Street, Northbridge. Hoot, hoot! Kyle, Michelle and Shelley (above centre) create a groovy, 'party' kinda...
5 tags
Coffee Geek
Passionate about coffee? If you're like me and only have one a day…then its gotta be really, Really, REALLY…. GOOD coffee! Coffee Geek, David above, originally from Korea, via Melbourne, takes his craft VERY seriously! He's head Barista at my 'local hang' Boho Cafe, Scarborough Beach. David's delight, smooth and creamy. A work of art. Just...
5 tags
Retreat
Time to getaway and retreat for Easter.   Soak up the glorious sunshine! Laze on the jetty, whilst Miss Indi guards the gear!  Simple pleasures. Take a stroll… …no fuss Army Style! Pull-on Siren boots, denim shorts, khaki canvas belt, leather cap and vintage 'Army' tee. Keep it simple, co-ordinated and no fuss. Tip: Rolled sleeves are back. Double roll...
6 tags
Style Me Khaki
'Style Me Khaki' in Combat Wear, Camo Wear or anything muddy green! The sunshiny Autumn days of late, mean sass & bide army greens, shorts and ankle boots are still the go. An army jacket tied 'hipster-style' is handy, if the day cools. A camo hoodie vest is an easy extra layer with jean shorts and a singlet. But as the weather cools… …Style...
9 tags
Combatstyle!!
It's time to take ACTION and give Combatstyle a go! Heading to the hip new West Perth cafe, Gordon St. Garage, in a lightweight, tran-seasonal khaki jacket, Guess ripped shorts and Siren 'Atone' ankle boots. The rear and side exterior walls of the original garage remain authentic. Original loo too! Not for cafe patrons tho!! Combat or Militarystyle is as easy as...
10 tags
A Progressive Shop-A-Thon At Times Square
Shopping and champers. Double delight! Last night, Times Square, Avion Way, Claremont was all lit up party-style. It was a VIP Shopping Night and there were loads of special offers, coupled with bubbles and nibbles for all! Time for an AndAndrea progressive Shop-a-Thon! Come join me… The party started in 'PoppyLand'. Designer, Poppy Lissiman has created her own...
5 tags
Emerald Green... Pantone Colour Of The Year 2013
Emerald green is trending right now. Its been voted 'Colour of the Year' for 2013. So, in honour of St Pat's Day today, green gets centre stage! To celebrate St Pat's Day, a little Angove Street brekky was in order. These Tluxe emerald green harems (above) were a special gift from Darlene and the gals at Style Palace. They're comfy, lightweight, t-shirt material...
6 tags
Resort Wear...Story Boutique Style
'Tahiti sounds nice'. Planning an overseas trip? Relax, 'Story Boutique' in Floreat, have all your needs covered. We all love a cruise, resort style holiday, or a Rotto retreat. Even the planning is fun! Just a few kaftan style dresses to throw over your bathers and you're good to go! With an AndAndrea Bali trip just around the corner, coupled with an invite...
5 tags
Gold Luxe
Go for Gold… because other colours are hot, then… not. Gold is always in. It works, day or night and adds luxe to any outfit! Go on… add a pair of gold jeans to your wardrobe.These are 'over-sized', slouched down and scrunched up! Slip on heels for night time and va-voom, you're dressed 'up' instantly. Gold on gold! Add a muscle tee and...
10 tags
Harry & Gretel Part 2... Get Glam
No matter your desire, your age, or your size… Harry & Gretel on the High Street in Leederville, has it all! Each item at H&G has been carefully selected by owner, Wendy Mason and her gorgeous daughter Heidi. If shopping IS your thing, then H&G really is a fashionista's delight. But… for those of you who loathe shopping and find it a chore, you'll find a safe...
8 tags
Harry & Gretel Part 1... Let's Dress Casual!!
Autumn/Winter clothing is arriving NOW! How exciting!! Time to take an AndAndrea visit to the ultimate fashion store on the High Street, in Leederville, Harry & Gretel. Harry & Gretel is a fabby, fashion store. It's a one-stop shopping destination. Whether it be the latest must-haves, gift lines, fragrances or accessories, H&G stocks it all! There's a wide range of...
7 tags
Garth Cook's Collection Brings The Sexy Back!
Much admired W.A. designer Garth Cook, launched his stunning Spring/Summer 2013-14 collection at the Promenade, Bishop's See, on Tuesday night. The outdoor runway was set in readiness (top). The stylish,VIP crowd seated (above). A buzz filled the air as Lara Bingle and entourage arrived and were seated. Showtime!  Garth Cook's collection brought the sexy back! Inspired by the...
16 tags
W.A. Fashion Awards 2013
Mix red carpet with flashing cameras, a sea of fashionistas in glam gowns, a sultry Perth evening and you have a glitzy, Perth Fashion Festival event.The annual, Western Australian Fashion Awards for 2013 were held last week at the fabulous Brookfield Plaza. Black and gold luxe. My simple colour combo for the WAFA's. Took a few little 'happy snaps' on my way.  Being...
8 tags
Helen Swift Designer Consignments
Have you heard about Helen Swift?  Old pal and AndAndrea 'regular' Carleen, (Above L) introduced me to Helen Swift and her Designer Consignment Store in Cottesloe some time ago. What a find!! Be warned… Helen's store is soooo good, it's addictive!! Helen's been in retail for many years and knows exactly what her clientele want. She only selects the very...
2 tags
Dare To Wear
It's time for change… and today is the day!   Accept the AndAndrea challenge. DARE TO WEAR AND SMILE IF THEY STARE! After all… it's better to be noticed than to blend. Have you got a little something in your wardrobe that you've not dared to wear yet? Go on! Get it out… Wear it today… No excuses. Wear it confidently, happily, proudly… it's...
5 tags
Shorts... Dressed Up, Dressed Down
Shorts have come of age! They're not just for the beach or the park. Think leather, lace, denim, linen, frayed, floral, flouro, dip-dyed. The list goes on and on. Dress them up or dress them down… they're fun, fab and suitable to wear just about anywhere. Gotta love versatility! Dressed Down. Denim shorts, faded, frayed and slung low on the hips. Add a touch of camouflage and...
2 tags
Style Palace...A Royal Tour
Come with me on a Royal Tour of the Style Palace… the gates of the palace are always open! Darlene Gianoli (above, with adorable Prince Romeo), is the creator of the Style Palace. Darlene has a keen eye, a natural sense of style and most importantly, knows what women want! The Style Palace online e-Boutique was launched in 2008. The luxurious Palace showroom opened its gates in June 2012....
6 tags
Fringe World Festival 2013
Northbridge is in party mode! The Fringe World Festival is in full swing and it's a perfect destination on a balmy Summer's eve. 'Dressing Down'. Cool, comfy and casual, muted manning cartell shift, lime bandeau and Bali thong sandals. Expanding on the success of last year's festival, this year there are over 50 venues. Fringe is a...
Look Feel Be
Hi there…c'mon into LFB! You'll look good. feel great. be the difference. Fabby LFB ladies, Caroline, Vanessa and Kiara above, have created a warm, friendly, one stop shopping destination on trendy Whatley Crescent, Maylands. The minute you walk in the door of LFB, you'll know you've stumbled upon something different, something special. LFB stocks conscious,...
Hatch
WooHoo!! Hatch Shop in Carillon Arcade know how to celebrate!! This racer back, black and white striped maxi, is loose and easy to wear on a hot summer's night. The jade green bandeau and bright beaded necklet gives the outfit a tribal feel! Ready, set, go… it's party time at Hatch! Hatch Shop promotes emerging, outstanding W.A. designers. To celebrate the opening of the...
6 tags
Shocking Pink Cocktail!
Follow these three easy steps to make a simple, summer "cocktail" outfit!?! First, add a 'shot' of shocking pink silk. Next add a 'dash' of vintage floral palazzo pants (from the dress-up box!) and finally, mix in a pair of pineapple coloured clogs. Easy! A delicious little outfit, perfect for summer drinkies or… even a little pole dancing fun! A...
8 tags
Luxurious Leather
Mmmm my destination??? Hatch Shop in Carillon City, for the launch of 'Living With Lucre' a luxurious leather accessories range, by emerging W.A. designer, Katherine Dunmill.  Just enough time for a fun alleyway, photo shoot! The drawstring, drop-crotch, silk harems above, were on a Salvos, $1 throw-out rack! Bargain!!! Hope they inspire you to find time for an Opping (Op shopping)...
7 tags
Love Your Legs!!
Summer and shorts go hand in hand! No excuses now… time to love your legs, slap on some bronzer or tinted moisturiser and get those legs out there! A simple trick to dress shorts 'up', is to add a lightweight summer blazer. This silk blazer above, is a Nina Maya fave. Hamming it up!! Twisted hair, Ellery shades, sass and bide singlet, Leona Edmiston bag, snakeskin belt...
4 tags
Let's Get Hip
Summer days are carefree times to let loose and explore your 'hip' inner self!  A simple white dress is a perfect base. Next add colour… any way you wish. A bag, beads, belt, shoes or lips… no rules. This Witchery A-line tunic, combines patchwork panels of cotton, linen and silk threads. It's loose and floaty and can be 'hip' belted, as above. Twist...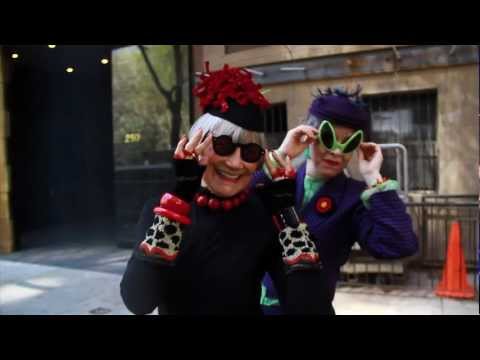 2 tags
NYE... A Time To Sparkle And Shine
On New Years Eve, the extreme 40 degree heat dictated my style… cool, casual, comfort. Some glitter and sparkle added AndAndrea fuuuuun!! The sass and bide drawstring, palazzo pants are a glitterblast! They're loose, floaty and oh so easy to wear. They're on the bargain racks at s&b. The gold sandals are from Witchery.  The sass and bide mirror ball, sequined singlet is...
8 tags
2012...Perth Fashion Highlights!!
2012 is drawing to a close. Perfect time for a little reflection and a few highlights of the AndAndrea year that was… Ooo groovy baby… hippi, hippi, shake! We shared my 'Peace, Love and Beads' dress-up, in my all time fave, original Levis flares.  We shared loads of fashion tricks and tips… such as how to wear a scarf as a belt (above) and… …how...
7 tags
Joy
For those of you who know me well, you'll know my middle name is… AndAndrea Joy! I really hope I've sprinkled some 'Joy' in your world throughout 2012. It's Chrissy Hol time in AndAndreaLand, but I couldn't see the year out without sharing one last little Christmas themed post… Being a huge Chrissy fan, I've been baking, decorating and on...
5 tags
Front Row with STM and 'harry&Gretel' Fashion
Harry&Gretel boutique, Bistro Felix and STM joined forces to create a fabulous night of fashion, friends and fine food! The parade sold out instantly and the fashionistas were out in full force. Having known harry&Gretel owner, Wendy Mason (above) and her daughter Heidi for sometime, I was thrilled to hear about the parade. The 'girlies' (below) are big h&G fans too, so...
12 tags
With Flowers In Their Hair
Following her sell-out 'A Is For Arizona' exhibition, emerging Perth artist, Pippa McManus returned to 140 William, with her next collection of paintings entitled, 'With Flowers In Their Hair'. She celebrated the opening with a fabulous VIP Champagne Launch.   After a whirlwind trip to London and inspired by London Fashion Week, Pip's works are created around a...
4 tags
A Mamamia / AndAndrea Collaboration →
Today I was a Guest Editor at Mamamia.com.au… To view the article and Mamamia's top style picks, click on the link above. As always, thanks for sharing the love aa xx
5 tags
Eagles Fashion Extravaganza
Last Christmas, I hand-picked beautiful gifts and boxed and bowed them up for the wives of the Directors' of the Eagles Football Club. This year, Eagles Executive Assistant, Anna Durante and Amanda Cox, Chief Financial Officer, decided on a 'different' Christmas concept for the ladies. They asked if I would host an in-store workshop. Fab!! I love hosting workshops, as the ladies...
5 tags
Let's Party Steph Audino Style!
Talented W.A. designer, Steph Audino, celebrated her label's first birthday by throwing a glam party at her studio in Inglewood. It truly was a family affair. Her wonderful mum Connie and dad, as well as other family members, worked tirelessly all day and were on hand to help, support, celebrate and share the love, for their darling Steph. Steph's gowns were showcased as models...
8 tags
And She's A Winner!
Racing season is in full swing! The Melbourne Cup is over, but Super Saturday at Ascot attracted a huge crowd of racegoers. So, it was perfect timing when I received a 'You've Got Mail' notification from Rachel McCann. Rachel won the TABtouch.mobi Fashions On The Field competition at the Perth Fashion Festival back in September. Her prize consisted of an all expenses paid, 4-day...
9 tags
Let's Do Lunch Mia Freedman!
Yes, I'm a fan! I follow Mia Freedman's chatter and blog, Mamamia on Twitter. I watch her on the Morning Show with Lisa Wilkinson and Georgie Parker. I read her STM column… so when good friend Margaret Buswell invited me to the Crown's Bistro Guillaume to have lunch with Mia, I jumped at the opportunity!   The Crown is looking stunning. It's all gold, sparkly silver...
4 tags
Nostalgia
It was a nostalgic trip back in-time to Guildford Village. A happy catch-up with special school friends and a scrumptious farmstyle brekky at the Guildford Tearooms. The James Street strip, full of old world charm, draws me in like a magnet. Powder Puff stools in rainbow colours… adorable!! Wrought iron, two-seater and fashion mags on James St. Double love! Wandering thru...
5 tags
Ladies Ladies Ladies!!!
Pssst…heard a little whisper that a special in-store visitor was on her way. Knew my colour crazy dress would be perfect for the occasion! Kapow!! But first it was time for Bocelli's brekky with…   …colour queen and regular blogstar, divine Miss Suzi! She looked luscious in her lime-leopard duo. My dress got the tick of approval from Miss Suzi!! This Charlie Brown...
7 tags
Casual Cafe Style
UnModels often ask styling related questions. By far the most FAQ is… How do I create that oh, so effortless, casual cafe style?? You know the Kate Hudson, Sienna Miller, 'I just threw this on' look. It's the trickiest style of all! It takes a lot of twigging and it ain't easy!! But it's well worth devoting the time and energy to. After all, our lifestyle is...